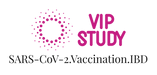 Eligibility for VIP study
We would like to invite you to take part in VIP, a research study which looks at how patients respond to SARS-CoV-2 (COVID) vaccination whilst on certain inflammatory bowel disease (IBD) medications. We would be grateful if you would carefully read the information sheet about the study and complete your details below to determine whether you are eligible for the study.
You have selected an option that triggers this survey to end right now.
To save your responses and end the survey, click the 'End Survey' button below. If you have selected the wrong option by accident and/or wish to return to the survey, click the 'Return and Edit Response' button.